'Our message to people viewing indecent images: get help or get caught,' says lead officer
And it is obviously getting through to some people. Well done!
Harriet Agerholm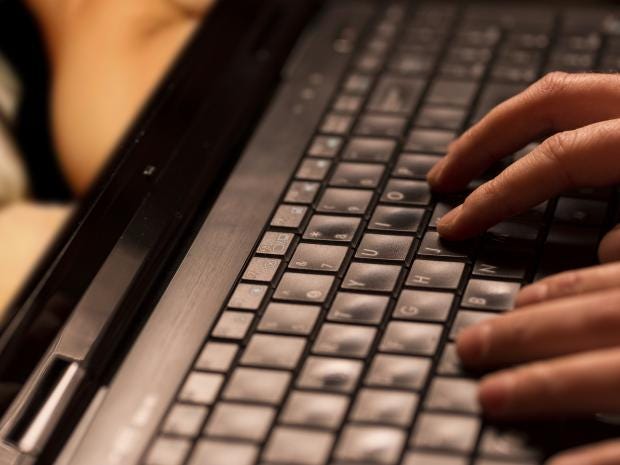 Chief Constable Simon Bailey said the number of people looking at sexual images of children online is grossly underestimated. Getty Images/iStockphoto
More than 13,000 people have sought help to stop them from viewing indecent images of children in the past year, according to a leading charity.
According to Stop it Now, a charity that works to reduce child abuse, more than 12,000 people accessed self-help resources on its website. A further 1,615 people with concerns about their online behaviour called the charity's confidential hotline.
The news comes as the National Police Chiefs' Council Lead for Child Protection, Chief Constable Simon Bailey, warned that the most recent official figure of the number of people looking at sexual images of children online could be grossly underestimated.
Constable Bailey said in a statement: "Viewing indecent images of children is illegal and it is not a victimless crime – children in these images are abused when an image is first taken and repeatedly victimised every time that image is viewed.
"In 2013, it was estimated that 50,000 people were viewing these images but we fear that number could have increased significantly.
He is talking about the UK, I presume, since we know at least 750,000 people are searching the internet at any given moment for child porn globally.
This is really great news, but it needs to be repeated in every country on the planet. Unfortunately, most countries have yet to take an interest in child sex abuse - the worst atrocity that mankind has ever inflicted upon itself, bar none! We need to raise the profile! Have you heard anything about child sex abuse or child pornography in the year and a half of American electioneering? Nope!
We need to get the message out to men of all ages that viewing child pornography is not only evil, it is against the law in every country and going to jail for viewing child porn can thoroughly ruin your life and cause great trauma and embarrassment to everyone in your family and everyone who knows you, not to mention the poor little children you are ogling. So stop!
"In response, forces are arresting more offenders and safeguarding more children than ever before. But enforcement alone cannot solve this problem – more needs to be done to prevent abuse in the first place.
"There are many people who offend or are yet to offend and want help to stop their behaviour.
"Our message to people viewing indecent images of children is get help or get caught."
Founder of Stop it Now, Donald Findlater, said: "Men, young men in particular, need to think about their online viewing of any sexual material and make sure their behaviour is and stays legal.
"Stop it Now is in touch with many such men who started out looking at adult pornography but who ended up looking at sexual images of increasingly younger people, including children.
Did I mention, sin is progressive. Yes, I did!
"We want people to keep their viewing legal, but if they have looked at sexual images of anyone under 18, they need to stop and stay stopped.
"If they are struggling to do this, they also need to know that confidential help is available on the end of a phone or online."
Almost seven in every 10 calls to the NSPCC's helpline over the last year were serious enough to be referred to the police and councils.