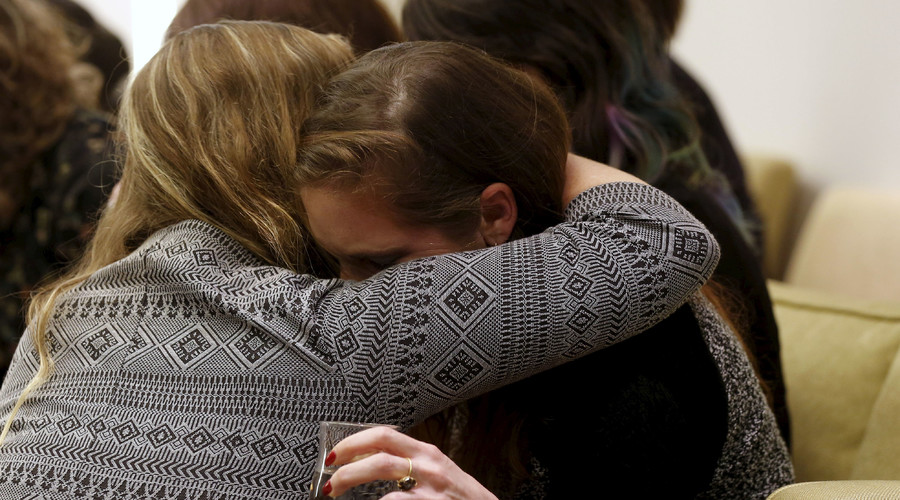 © Ronen Zvulun / Reuters
Thousands have taken to social media and share highly disturbing hushed up stories of sexual violence under the hashtag #iamnotafraidtosay. The online flash mob was kicked off by Ukrainian social activist Anastasia Melnichenko.
Melnichenko recalled on her Facebook page how a relative molested her when she was six. Then, years later, her ex-boyfriend tied her naked to the bed, took photos and threatened to publish the embarrassing images on the web.
"We do not need to explain ourselves. We are not to blame, the rapist is always the one who's guilty.
I'm not afraid to speak and I do not feel guilty. Do men ever wonder what it is like to grow up in an atmosphere in which you are treated like meat? You did not do anything, but everyone feels entitled to #### you and dispose of your body,"
Melnichenko wrote on her page.
"I know they are unlikely to understand. I would not explain anything at all, but unfortunately, they make up half of humanity. Therefore, we, the women, need to talk about our experience. It is important to make it visible. Please speak up."
Not every man is like that Anastasia, but certainly enough to make it seem like every man. And too few of the rest of us are willing to stand up for women and girls.
Many of those sharing their chilling stories in Russia, Ukraine and beyond complained that
the public often prefers to find the victim at fault for the violence, with "there-was-no-need-to-wear-a-skirt"
stereotype still prevalent.
"'It's her fault, she provoked him,' –
saying things like this is too easy," one woman told RT.
More than 600 million women live in countries where domestic violence is not even considered a crime.
Up to "7 in 10 women around the world experience physical and/or sexual violence at some point in their lifetime,"
according to the UN statistics. On top of that,
one in four women experience physical or sexual violence during pregnancy.
Women aged between 15-44 appear to be more at risk from rape and domestic violence than from cancer, car accidents and war, according to World Bank data.
In Russia, up to 70 percent of women have gone through some sort of harassment in their lifetime.
"I was a 13-year-old child with a school rucksack,
walking home from school, minding my own business. He followed me for a long time, he knew my schedule and that I always go home alone and don't have friends who accompany me...," one young woman, who didn't want to be identified, told RT.
"Once on public transport, a man forced me to sit on his knees and tried to kiss me. The whole carriage looked on as if nothing was happening, and nobody stopped him,"
another woman recalled in an interview with RT.
The online flashmob has pushed men to talk about violence too, with many voicing concerns about the safety of their wives and daughters.
"I've got a daughter, and I want to help her not to get into trouble or come out of a difficult situation safely. Anyone knows what to do?"
one father asked on Facebook.
"Tell her that her body belongs exclusively to her. And do not teach to obey adults unconditionally, as I was taught, for example. Tell her that to scream and run away in a potentially dangerous situation is not a shame,"
one woman replied.
We can do better than that -
If she is walking home from school like the 13 year old above, have her carry a metal pen in her hand if someone is following her. If he grabs her from behind, she should swing the pen violently downward into the guys thigh.
If she is grabbed like the woman on the bus, an elbow to the nose, or even a head-butt to the nose will get his attention.
If she is in more danger, she should attempt to poke a finger in one or both of the man's eyes. This will completely incapacitate him for at least a few seconds if not several minutes.
One other possibility is to judo-chop the guy in the throat - as hard as you can. This also will incapacitate him for some time.
And last, but not least, pray. Ask God to help you; not Allah, he is on the man's side, but the God of the Bible - Jesus Christ.