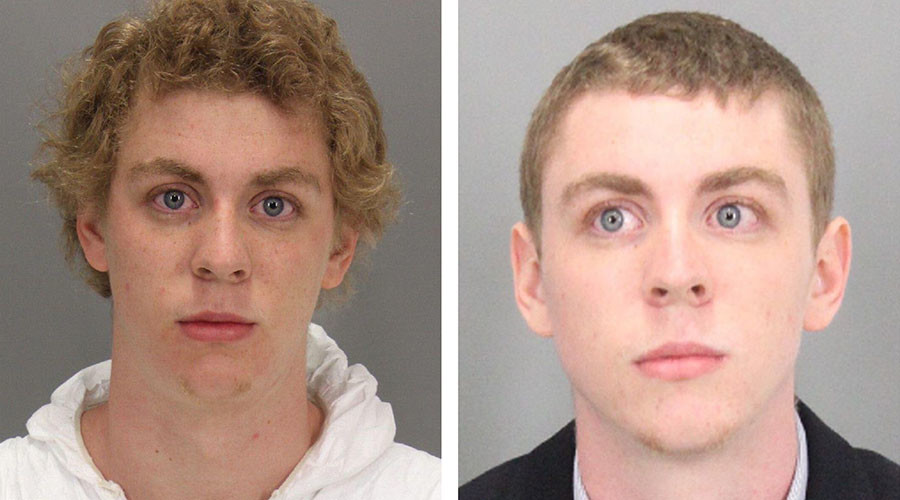 A combination booking photos shows former Stanford University student Brock Turner (L) on January 18, 2015 at the time of arrest and after Turner was sentenced to six months in county jail for the sexual assault of an unconscious woman, in Santa Clara County Sheriff's booking photo (R). © Reuters
Brock Turner's six-month sentence for sexually assaulting an unconscious woman is coming to an end three months early.
The ex-Stanford swimmer's light penalty provoked outrage and inspired California legislation now just one step away from becoming law.
Turner, 20, will likely be released from jail Friday having served only half of his six month sentence.
Three months may be a short time to serve for sexual assault, but
a lot has changed between when he was convicted and now.
Three months ago, Turner was found guilty of assault with intent to commit rape of an intoxicated woman, sexually penetrating an intoxicated person with a foreign object, and sexually penetrating an unconscious person with a foreign object.
On top of his brief jail time,
Turner will spend the rest of his life on the sex offender registry and will have to complete a sex offender management program.
Although life on the sex offender registry is no one's idea of fun, it is a far cry from what the
prosecutors were originally seeking, which was a six-year sentence in federal prison.
While California has mandatory minimum sentencing laws for forcible rape, the same is not true for cases where the victim is unconscious or severely intoxicated
– which is what allowed Turner to slink out of court with what was seen by many as a slap on the wrist.
But on Monday, state lawmakers passed legislation that would remove a judge's ability to use discretion during sentencing of such crimes.
"Sexually assaulting an unconscious or intoxicated victim is a terrible crime and our laws need to reflect that," Democratic Assemblyman Bill Dodd, a co-author of the legislation, said in statement.
He went on to say, "This bill is about more than sentencing, it's about supporting victims and changing the culture on our college campuses to help prevent future crimes."
The bill now moves to Governor Jerry Brown (D), but he has made no mention of whether or not he will sign it into law.
Turner's sentence was cut short largely due to the fact that he had no prior run-ins with the law, which was also what inspired Judge Aaron Persky to give him a lean sentence, explaining that anything harsher might have a "severe impact" on Turner.
Persky also received a significant amount of backlash from the sentencing – so much so that
he was transferred into civil court.