Dan Stack
Flowers lay at the foot of the statue of former Penn State football head coach Joe Paterno prior to the Blue/White spring scrimmage game at Beaver Stadium in University Park, PA.
MATTHEW O'HAREN/ICON SPORTSWIRE
According to Charles Thompson of PennLive,com, there are new shocking reports that Joe Paterno knew of child sex abuse going on at Penn State as early as 1976. This is according to court documents.
If true, this could rattle the football program to its core–again. This would also mean that Paterno never went to higher ups with this news.
Of course, at the center of the case is what longtime assistant coach Jerry Sandusky was accused of doing in his time at Penn State as Paterno's right-hand man. Some say Paterno turned a blind eye to all of this, and this latest news will pour gasoline on that fire.
More from Thompson of PennLive.com:
It came in the form of a single line in a court order on a related insurance coverage case involving Penn State, and its full ramifications can't immediately be gauged.
But that line was eye-popping in itself.
The line in question states that one of Penn State's insurers has claimed "in 1976, a child allegedly reported to PSU's Head Coach Joseph Paterno that he (the child) was sexually molested by Sandusky.
The order also cites separate references in 1987 and 1988 in which unnamed assistant coaches witnessed inappropriate contact between Sandusky and unidentified children, and a 1988 case that was supposedly referred to Penn State's athletic director at the time.
All, the opinion states, are described in victims' depositions taken as part of the still-pending insurance case, but that, according a PennLive review of the case file, are apparently under seal.
Sandusky was charged and convicted of multiple counts (45) of sexual abuse of children in 2012. He is scheduled to serve 30 to 60 years in prison.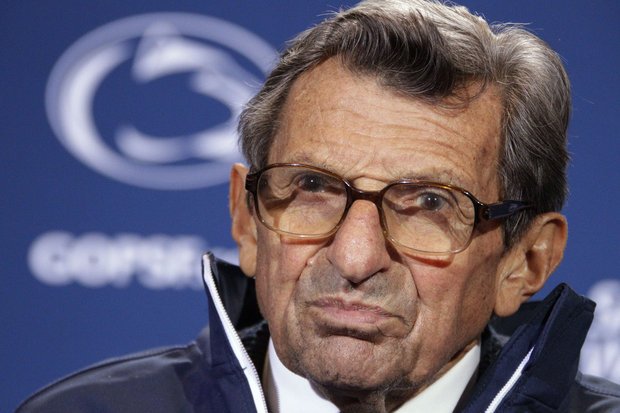 Paterno died in 2012 and is still a beloved figure on campus.
A lawyer for Paterno's family denied the allegation.
If true, this would make Paterno complicit in the sexual abuse of all of Sandusky's victims after that date.