Dorset man jailed for life over Philippines child sex abuse
David Shepherd must serve at least 14 years after
being found guilty of 22 offences including rape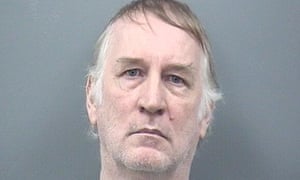 David Shepherd. Photograph: Dorset police
Steven Morris, Guardian
A pub landlord from Dorset who travelled to south-east Asia and filmed himself sexually abusing children as young as eight has been jailed for life with a minimum term of 14 years.
David Shepherd, 60, from Bridport, flew to the Philippines and recorded himself committing serious sexual offences, including rape, against children. He also paid for and directed live "shows" over the internet in which children as young as 17 months were sexually abused.
He was found with a large collection of films he had produced and tens of thousands of indecent images and videos of children that he had downloaded to his computer and hard drives.
Such was the extent of his offending that the case was split into a series of hearings at Dorchester crown court.
He was convicted by a jury of 22 counts of sexual offences against children including rape, attempted rape, producing indecent movies of children and paying for sexual services of a child.
He admitted 10 counts of arranging and facilitating a child sex offence and possessing 20,207 indecent images and videos.
He will have to serve at least 14 years behind bars before being considered for parole.
The judge, Peter Johnson, told Shepherd on Wednesday:
"You have no moral boundaries. You have shown no remorse. Your acts will haunt your victims for the rest of their days. Their innocence has been taken from them.
"You have a deeply engraved sexual interest in young children. You are unquestionably a danger. This life sentence reflects the public abhorrence for your shocking crimes."
Shepherd was arrested in November 2015 at the Loders Arms pub near Bridport where he had been landlord for six months.
Police found that
his offending went back to 2007
. They discovered that
he had abused four girls under 13 in person while in the Philippines
. Back
in the UK he had contacted other paedophiles in the Philippines and directed at least 76 live "sex shows" involving Filipino children
.
During police interviews Shepherd denied visiting and meeting the children in the Philippines, despite evidence including videos of him abusing children, travel tickets and financial records indicating otherwise.
DC David Baker, of Dorset police's paedophile online investigation team, said: "This is the most horrific case of child abuse I have had any dealings with. David Shepherd is an individual who presents a serious risk and danger to young children. For many years he has used the internet to commission live sexual abuse which he recorded.
"Such was Shepherd's arrogance of his offending, he pleaded not guilty despite the overwhelming visual evidence against him. This evidence showed harrowing images of very young children being abused and degraded in the most vile manner."
An NSPCC spokesperson for south-west England said: "The youngsters in these pictures and films are the victims of unspeakable abuse and the harrowing experiences they endured for the sexual gratification of Shepherd and other offenders should not be underestimated."
Bridport, Dorset, UK
Abbot of Ampleforth 'investigated by police'
over alleged child sex abuse
Ampleforth Abbey and College in North Yorkshire
CREDIT: KIPPA MATTHEWS /REX
Sophie Jamieson, Telegraph
The Abbot of Ampleforth is reportedly being investigated by police over alleged child sex offences.
Complaints about the Right Rev Cuthbert Madden have been raised by four former pupils at Ampleforth College, the Catholic boarding school
, according to The Times.
He is said to have "stepped aside" from his responsibilities as chairman of governors at the school while the investigation takes place. He denies any wrongdoing.
Father Cuthbert, 61, was first elected Abbot in 2005, a position which puts him at the head of the largest Benedictine community in the country. He has been at Ampleforth for 30 years and was reelected to his position three years ago.
Ampleforth has previously been linked with alleged sexual abuse by priests. In the last 20 years, three monks have been convicted of historic sex offences.
Father Cuthbert has previously described such crimes as a betrayal of trust. He has said in the past:
"We consider that the safety and protection of children in our care is a sacred responsibility."
Father Cuthbert is chairman of the governors at the school
CREDIT: PHILIP HOLLIS
The allegations made about Father Cuthbert are said to have taken place in the early 1990s, the Times claimed, at which time he was a junior monk and tutor at the school.
Parents of children at the school reportedly received a letter this week from the school's acting headminister Father Wulstan Peterburs saying that the Abbot's temporary absence followed "the receipt of allegations relating to historical events".
A spokeswoman for North Yorkshire Police said the force "is investigating non-recent allegations of indecent assault against four pupils at Ampleforth College which took place in the 1990s.
"The information was reported to the police in August 2016. The investigation remains ongoing and a man in his sixties has been interviewed under caution.
"The police investigation has also triggered safeguarding measures which have been put in place while the investigation continues."
Ampleforth has said it is committed to the safety of all the children in its care and was found in recent inspections to be "fully compliant with all aspects of safeguarding".
Child sex abuse royal commission:
Hunter paedophile priest 'was like Jekyll and Hyde'
ABC Newcastle By David Marchese
Gerard McDonald told the child abuse royal commission Vince Ryan ruined his life. (ABC News: Anthony Scully)
A child sexual abuse survivor has broken down while recounting to a royal commission how he was repeatedly molested by a New South Wales priest who "was like Jekyll and Hyde" and warned him "nobody will believe you because I am a priest".
Key points:
Royal commission shifts focus from Hunter region's Anglican to Catholic church
Survivor tells commission he was abused by priest twice a week for a year
150 complaints of child sexual abuse substantiated so far in Maitland-Newcastle Catholic diocese
The Royal Commission into Institutional Responses to Child Sexual Abuse this morning shifted its focus to the Hunter region's Catholic church, after spending weeks probing Newcastle's Anglican diocese.
The first witness to give evidence at the hearing was
child abuse survivor Gerard McDonald,
who detailed his abuse at the hands of
convicted paedophile priest Vincent Ryan.
Ryan was released from jail in 2010 after serving a 14-year prison sentence for a string of sexual assaults on dozens of boys between 1972 and 1991 and is currently awaiting sentencing on separate offences.
Mr McDonald told the commission he was abused by Ryan twice a week for a year, while he was an altar boy in Newcastle in 1975.
He said Ryan would perform oral sex on him and force him to reciprocate, before asking "does that feel good?"
Now 52, Mr McDonald said
Ryan tried to anally rape him in front of a group of boys, after telling the boys to penetrate each other.
Mr McDonald described how
Ryan would take his glasses off before abusing him in his car out the front of Mr McDonald's house.
"He became intense, focused and very, very scary. It was like Jekyll and Hyde."
"I came to dread him taking his glasses off," he said.
Mr McDonald said Ryan told him not to tell anyone about the abuse, warning him
"they won't believe you because I am a priest".
Priest admitted guilt decades before being charged
The commission heard evidence from Sister Evelyn Woodward, who was behind a push to get Ryan "away from the children" in the 1970s and have him sent to Melbourne to be "cured" by a psychologist.
Sister Evelyn said a former senior Hunter Catholic figure, Monsignor Patrick Cotter, later told her that Ryan had admitted he had molested children at the time.
"Father Ryan knelt at his feet and told him he was guilty," she said.
Police were not made aware of the 1975 assaults until 1995.
Another St Joseph's Sister, Margaret-Ann Geatches,
said she was made aware of Ryan sexually abusing children but
did not believe child molestation was a crime
.
She was pursued by the commission chair, Justice Peter McClellan:
Justice McClellan: If a man sexually assaulted a young girl in a school, would you see that as a crime back then?
Sister Margaret-Ann: Yes I would
Justice McClellan: Why didn't you see a man sexually assaulting a boy as a crime?
Sister Margaret-Ann: I just think that we weren't informed enough.
Catholic church paid out millions to abuse survivors
Earlier today, the royal commission heard more than 150 complaints of child sexual abuse have been substantiated in the Maitland-Newcastle Catholic diocese to date.
In his opening address, counsel assisting the commission, Stephen Free, said 158 claims of child sexual abuse with the Maitland-Newcastle diocese have been substantiated, involving 31 perpetrators.
"There is a long and disturbing history of suffering by children in the diocese of Maitland-Newcastle, inflicted by diocesan priests and members of religious orders."
Mr Free said
the diocese had paid out $25.7 million in compensation to complainants.
Almost $6 million has been paid to victims of Vince Ryan, including one claim which resulted in a payment of $2.9 million.
"I expect there will be evidence in this case study which exposes striking similarities between the events that unfolded within the Catholic church in different geographical regions, across similar historical periods," Mr Free said.
Ahead of the hearing, the current Bishop of the Maitland-Newcastle diocese, Bill Wright, released a video statement.
Bishop Wright said the diocese was likely to be "seriously criticised" about its handling of abuse, warning some evidence would be "disturbing" and "confronting".
The hearing is expected to continue for two weeks.
Hunter region, NSW
Foster carer charged with child sex abuse
A foster carer in Western Australia has been charged
with the sexual abuse of a six-year-old girl
Australia Associated Press
A 60-year-old West Australian man has been charged with sexually abusing a six-year-old girl in his care.
Police allege the Stake Hill man abused the girl between December 2014 and May 2015 when he was a foster carer.
He has been charged with sexual penetration and indecent dealings with a child.
Stake Hill, WA
Hey Dad! star Robert Hughes allowed to appeal child sex abuse convictions
Appeal to be heard in December after high court grants leave to appeal convictions and six-year jail term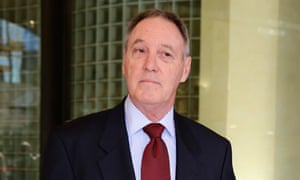 Former Hey Dad! star Robert Hughes was convicted in 2014 of 10 charges relating to sexual and indecent acts against four young girls in the 1980s and 90s. Photograph: Jane Dempster/AAP
Australian Associated Press
Former Hey Dad! star Robert Hughes has been granted leave to appeal against his convictions and jail term on child sex abuse.
High court judges Michelle Gordon and Stephen Gageler granted leave in Sydney on Friday, on the
grounds of a dispute about tendency evidence admitted
in the New South Wales and Victorian jurisdictions.
Hughes attempted last year to appeal against his six-year sentence and convictions in 2014 of 10 charges relating to sexual and indecent acts against four young girls in the 1980s and 90s, but it was thrown out.
The appeal will be heard in December.