Three horrific honour killings in the past month
File photo, AFP
A 19-year-old Pakistani girl who was beaten, had petrol poured over her and was put on fire for refusing a marriage proposal, succumbed to the wounds in hospital after a day of struggling for life.
Maria Sadaqat, the victim, was taken to Pakistan Institute of Medical Sciences (PIMS) reportedly after being tortured by the family of the would-be-groom who asked to marry her but was turned down,
local media reported.
Though doctors previously described the woman's condition as stable and improving, on Wednesday she died from sustained injuries.
Sadaqat, a teacher at a private school, was admitted to hospital with 85 percent burns on Tuesday.
She was attacked by at least five people as she returned home from work,
the police reported. The woman cried for help, but it took her neighbors a considerable amount of time to respond since her house is located in a remote area. By the time the help came, she had already suffered heavy injuries.
Sadaqat managed to identify two of the attackers, the police said, also adding that one of them worked together with the victim at school.
The police has launched an investigation against the five suspects. Three of them were taken in custody immediately after the incident, while others are currently being sought, Pakistan's SAMAA news channel reported.
The province's chief minister, Shahbaz Sharif, has obliged law enforcement authorities to draw up a preliminary investigation report on the case as soon as possible.
The victims's family have also filed a complaint against the hospital administration, alleging they failed to provide her with appropriate medical facilities,
Daily Pakistan wrote.
More than 1000 honour killings in Pakistan in 2015
More than 1,000 women were killed in Pakistan in 2015 by relatives who believed they had compromised their family's name, with a majority of these crimes, known as "honor killings," going unreported,
the country's independent Human Rights Commission said in its recent annual report.
Helping couple elope will get you murdered in Pakistan
Sadaqat's murder came just a month after a similar attack in Pakistan took the life of a 16-year-old girl who was strangled and then put on fire in a car for assisting a couple to elope.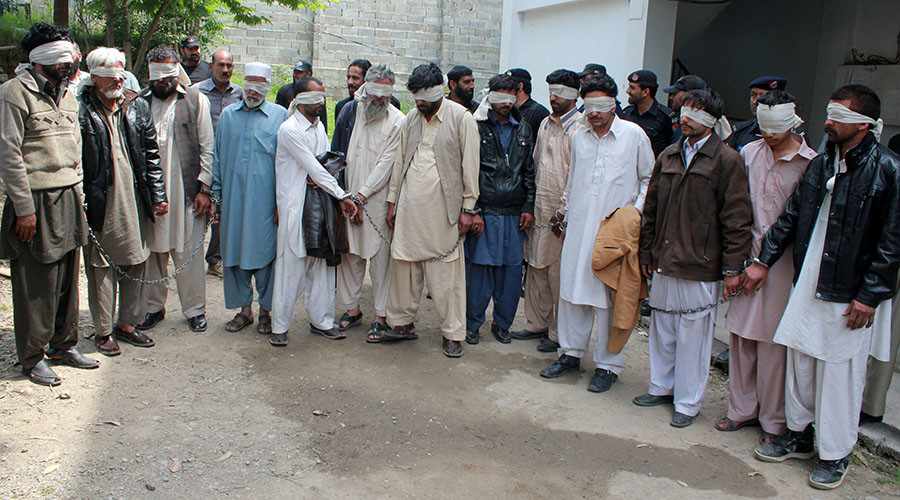 Members of a tribal council accused of ordering the burning death of a 16 year old girl are shown to the media after they were arrested by police in Donga Gali, outside Abbottabad, Pakistan May 5, 2016. © Online News / Reuters
"The causes of these killings in 2015 were domestic disputes, alleged illicit relations and exercising the right of choice in marriage," it said.
Affair gets couple beaten to death in India
A couple who tried to elope together have been beaten to death and cremated by relatives in an apparent 'honor killing' in India's eastern state of Bihar. Police said they have arrested one person and are searching for others.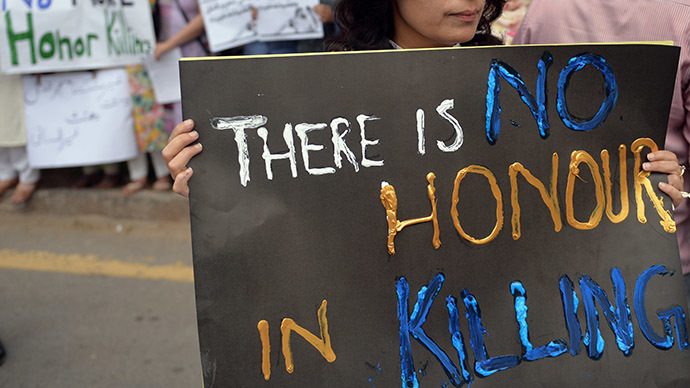 Couple lynched and burnt in India 'honor killing' 14 May 2016. FILE PHOTO (AFP Photo/Aamir Qureshi) / AFP
"They mercilessly beat the couple and later burnt their dead bodies outside the village. There were more than 100 villagers present when the couple was lynched."