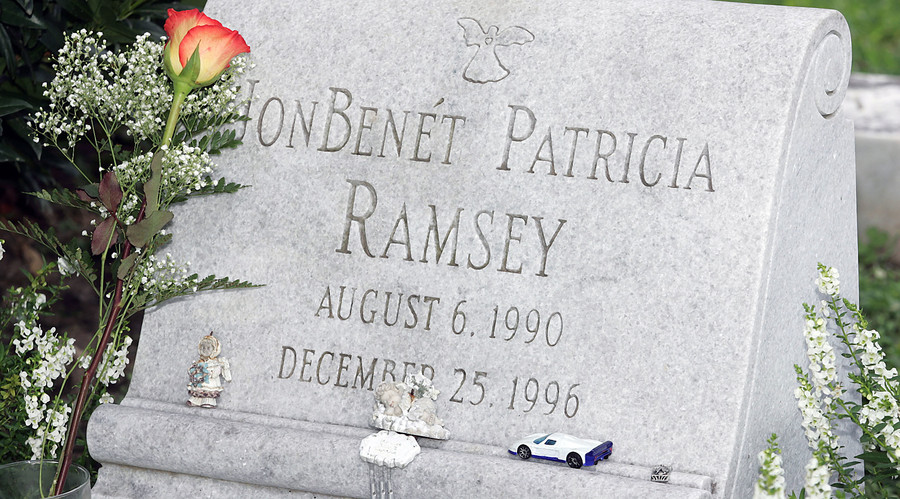 A lone rose lays at the gravesite of JonBenet Ramsey in Marietta, Georgia. © Tami Chappell / Reuters
Gary Oliva, a one-time person of interest in the murder of JonBenet Ramsey 20 years ago, is facing charges of sexual exploitation of a child. The 52-year-old is accused of uploading 22 sexually explicit images of a girl under the age of 10.
Oliva was arrested by Boulder, Colorado, police on Wednesday after they received a tip from the National Center for Missing and Exploited Children. Oliva was known by the Boulder Police Department after they investigated the murder of JonBenet Ramsey in 1996.
"We haven't ruled him in or out in connection with the Ramsey case," said Sarah Huntley, a spokesperson with the City of Boulder, told KMGH.
The National Center for Missing and Exploited Children looked into Oliva after they were contacted by Google and informed that a user was uploading suspected child pornography. The IP address was very similar to a location that Oliva had listed in his sex offender registration. In addition, a Boulder police investigator reviewed the images attached to an email account registered to Oliva.
Oliva was convicted of first degree sex abuse in Oregon in 1990, when a seven-year-old neighbor accused him of touching her while the two showered together. He admitted to being sexually attracted to girls "around the age of eight and nine years old," according to the affidavit.
While this recent arrest may be noteworthy in regards to the still-unsolved murder of six-year-old JonBenet Ramsey, it is not the focus.
"The focus on him has to do with this new case, we are not in a position at this point to say if he is being looked at in connection with JonBenet," Huntley told the Denver Post.
Oliva is being held on a $10,000 bond and will be in court in July.