Utah Sheriff's Sergeant Accused of Child Sex Abuse

By BOB MIMS

| The Salt Lake Tribune

He is allowed to work in sheriff's office in "non-law-enforcement capacity" after alleged incident with girl, 10

Uintah County Sheriff Vance Norton has placed one of his sergeants on leave pending the outcome of separate departmental and state investigations into alleged child sexual abuse.
Norton confirmed Monday that the allegations stem from an Aug. 27 incident involving a 10-year-old girl.

"The [sergeant] was placed on administrative leave and all police powers were taken away pending the outcome of the investigation by the [Utah Attorney General's Office] and our own internal investigation," the sheriff said.
However, he is being allowed to work in the sheriff's office in "a non-law enforcement capacity," doing such things as cleaning and paper work, Norton said.
The incident is alleged to have occurred at a birthday party, while the sergeant, whose identity was not released, was off duty. A protective order for the girl has been in place since the incident.
Citing the ongoing nature of the case, the sheriff declined further comment on the case.
Spokesman Daniel Burton said the AG's Office could not discuss an ongoing investigation.
Uintah Co., UT
Alabama High School Senior Charged with
Sex Abuse of two Children
By Calvin Cooley For The Daily
A senior at Morgan County's Brewer High School was arrested Friday on two counts of abusing children under the age of 12 after a six-week investigation, but Morgan County Schools officials first heard about it from the media Monday.
Anthony Edwin Proctor, 18, of the 900 block of Charest Road, Somerville, admitted to inappropriately touching both victims, according to court records released Monday.
"I know (the victims) were not at Brewer High School, which is grades 9-12," Morgan County Schools Superintendent Bill Hopkins Jr. said Monday. "I do not know the details. Him being 18, we hear about it from y'all, from the press."
Hopkins said Brewer Principal Jeremy Childress conducted an interview late Monday with Proctor's parents.
The superintendent said he trusts the Sheriff's Office to share information about students when necessary.
"We would like any information given to us that we feel is needed," Hopkins said. "If they felt that any student's safety was in danger, whether the victim or the perpetrator, they would let us know. We're at their mercy and we trust they will give us whatever we need to know."
Proctor was arrested at his residence by Sgt. Blake Robinson of Morgan County's Special Victims Unit. Proctor was booked into Morgan County Jail with bail set at $10,000, the Sheriff's Office said, and was later released.
Morgan County Sheriff Ana Franklin said Robinson launched an investigation following an Aug. 25 report of sexual abuse filed with the Sheriff's Office. Franklin's office received reports of a second instance of alleged abuse Aug. 30, records show.
According to affidavits signed by Robinson on Thursday,
Proctor admitted to inappropriately touching each victim for sexual purposes during the investigation.
Hopkins said Proctor will not attend classes at Brewer High until a decision has been made on Proctor's continued enrollment.
"The options we do have are all the way from some sort of expulsion to alternative school to online classes," Hopkins said. "There are a whole lot of options available, and we'll weigh those options (today) and we'll involve lots of people, including the parents and the school.
"At this time, the student is not going to attend school until we come to a decision. We did't get this information until late (Monday)."
Robinson obtained warrants for Proctor's arrest Thursday and executed those warrants Friday. He was arrested without incident, Franklin said.
"Usually there is one tip that will lead to an investigation like this," Franklin said. "After the investigation began, we received a second tip. At this time, we don't have reason to expect anyone else to come forward, but that is always a possibility when you are dealing with charges like these."
Sexual abuse of a child less than 12 is a Class B felony in Alabama. If convicted on both counts, Proctor could face up to 40 years in prison.
Texas man convicted of child sex abuse
sentenced to 30 years
By Elizabeth Zavala, mySA
A San Antonio man convicted last month on one count of sexual assault of a child and two counts of indecency with a child by contact has been sentenced to 30 years in prison.
Frederick Lee, 39
,
initially was charged in a multiple count indictment after a 16-year-old girl told authorities in 2013 that Lee sexually assaulted her.
The Express-News does not identify victims of sexual assault.
The victim, now 19, testified at Lee's trial that
he abused her on two occasions, and gave her alcohol and "a white, powdery" substance, which she said Lee would put up her nose before he forced her to allow him to perform sex acts on her.
"I kept on telling him no, I didn't want to do this,"
she said.
She said Lee told her he would rape her if she told anyone about the encounters.
A jury convicted Lee on Sept. 26. State District Judge Lorina Rummel sentenced him Wednesday after prosecutors said Lee had served two prison terms in Louisiana on drug-related charges, according to a statement by the Bexar County District Attorney's Office.
Sexual assault of a child and indecency with a child by contact are both second-degree felonies punishable by two to 20 years in prison and a $10,000 fine. Because Lee is considered a habitual offender, his punishment range was enhanced to 25 years to life in prison,
according to the DA's office.
The sentences will run concurrently, and Lee will have to serve at least half of his 30-year sentence before he is eligible for parole.
SUSPECT IN AMISH 'CHILD GIFTING' CASE FACES
NEW SEXUAL ASSAULT CHARGES
District Attorney Matthew Weintraub on Monday announced new child sex abuse charges against Lee Kaplan, of Feasterville. (WPVI)
DOYLESTOWN, Pa. --
A Pennsylvania man accused of fathering two children with a 14-year-old girl gifted to him by her parents was charged Monday with sexually assaulting five other girls in that family, calling them his wives.
Bucks County District Attorney Matthew Weintraub announced new child sex abuse charges against 51-year-old Lee Kaplan, of Feasterville, calling it a "sad but critical new development."
"He played on their trust and affection for him and he groomed them to see him as a religious and cult-like figure,"
Weintraub said.
The victims were among 11 girls found living in Kaplan's home when he was arrested in June. The girls ranged in age from 6 years old to 18 years old during the time of abuse,
Weintraub said.
Police have said the
teen's father told them he and his wife "gave" their 14-year-old daughter to Kaplan after he financially helped the couple. By the time she was 18, she had two children with him. It wasn't clear when the other girls moved in with him.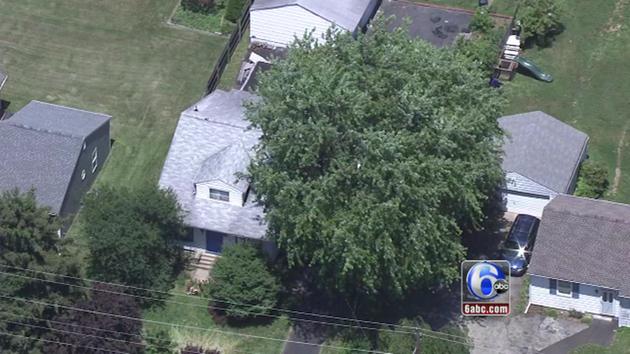 Pictured: The home in the 400 block of Old Street Road.
The oldest girl told police the six sisters were Kaplan's wives, and he told them he had dreams telling him it was what God wanted,
according to an affidavit released Monday.
Kaplan's attorney, Ryan Hyde, said Monday he has not seen the complaint and couldn't yet comment.
Daniel and Savilla Stoltzfus
Kaplan has been in the Bucks County jail on $1 million bail, and an additional $1 million cash bail was added after the new charges were filed. He was arraigned by video.
Kaplan and the girls' parents, Daniel and Savilla Stoltzfus, were supposed to go on trial next week, but the proceedings have been canceled, according to online court documents.
Trial Ordered for Parents Accused of Giving Away Daughter, 14, to Man
Three Held in Pennsylvania Rape Case of Teen Amish Girl 'Gifted' to Man
The children are all together now and are safe, Weintraub said.
"This man obviously groomed these children for a long time," Weintraub said. "He accomplished his objective and now we have to accomplish ours and bring him to justice."