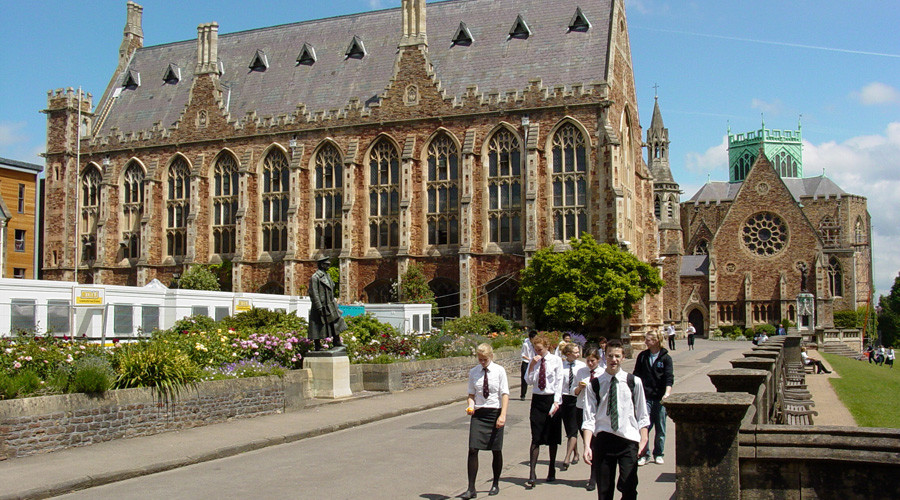 Students at Clifton College © Wikipedia
A peeping-tom teacher found by his pupils half-naked and tied to his chair kept his job despite years of complaints to three successive headmasters, according to a report by an independent investigator.
Jonathan Thomson-Glover, 53,
was
jailed for three-and-a-half years for filming pupils naked over a period of 17 years at the prestigious Clifton College in Bristol.
He taught German and was a house master responsible for the welfare of hundreds of teenagers at the leading public school, which charges its pupils £33,000 (US$43,000) a year.
At Thomson-Glover's trial at Bristol Crown Court last year,
he was found to have placed concealed cameras in school showers and studies, and in a bedroom where children were encouraged to engage in sexual activity.
An independent investigation was launched by the college following Thomson-Glover's prosecution.
The report by Penny Jones released this week found that
a failure to keep records, pass on concerns or investigate complaints meant no effective action was taken against Thomson-Glover.
On several occasions, pupils and staff reportedly found Thomson-Glover tied and taped to a chair, including one instance when he was discovered on the cricket pitch in his underpants. These were dismissed as pranks.
He showed excessive interest in "good-looking, naughty, sporty boys," who would be invited to his home for beer, pizza and computer games and on weekends to his holiday home in Cornwall.
In several cases, the response to parental complaints was to tell them that if they were unhappy they should find another school for their child.
Jones interviewed about 80 current and former staff members as part of the investigation, and around
70 families - including students and parents - came forward.
"Poor record keeping meant that successive heads were unable to see that a large number of concerns about [Thomson-Glover] had been raised during his career at Clifton,"
she wrote.
"Each incident was considered in isolation, none met the threshold applied at the time for disciplinary action, and the cumulative effect of the various incidents and behaviours was never considered."
In 2006, an education psychologist warned the school that Thomson-Glover fitted the profile of an abuser but no action was taken.
Tim Greene, Clifton's current head teacher, apologized to pupils and parents in a statement, seen by the Times.
"We would first and foremost like to say how deeply sorry the college is for the exploitative and criminal behavior of Thomson-Glover," he wrote.
No you're not! You're sorry he got outed.
"The sense of shock and dismay at the fact that so many of our pupils and their families were affected by what he did has not faded in the year that has passed since his conviction.
"Our total commitment to lifting the quality of safeguarding through the school has meant that we have examined every process from a new viewpoint, determined to make the safeguarding of our pupils a paramount concern."
Don't you just love it when institutions suddenly find a new, total commitment to the safety of their children, only after someone has been prosecuted. Makes one believe that it must surely be genuine.
In July, Thomson-Glover had six months added to his prison sentence after he admitted sex offenses against children at a school in Winchester before he joined Clifton.
Thomson-Glover joined Clifton College in 1990, and taught there for 24 years.
He lived off site until September 2006, when he stayed in a flat in the basement of the college.
Filming of pupils started in 1998, one year after he became a house master. He left a concealed camera in a bag in a shower area.
From the late 1990s pupils were taken to his holiday home in Cornwall without authorization. There were reports of underage drinking and smoking.