Has the world become such a crude and vulgar place that vile creatures like Duterte can rise to the highest office in their country? Unfortunately, it seems the answer is yes.
Update:

While I have an intense dislike for vulgarity, I do admire someone who is wildly successful in reducing crime. As Mayor of Davao, Duterte's vigilante support has taken Davao from being the murder capitol of the Philippines the what one organization calls, the 4th safest place in the world. If he can dramatically reduce crime across the whole country, especially child sex exploitation, child sex tourism, and child pornography production, he will be my hero regardless of how uncouth he is.
From BBC Asia,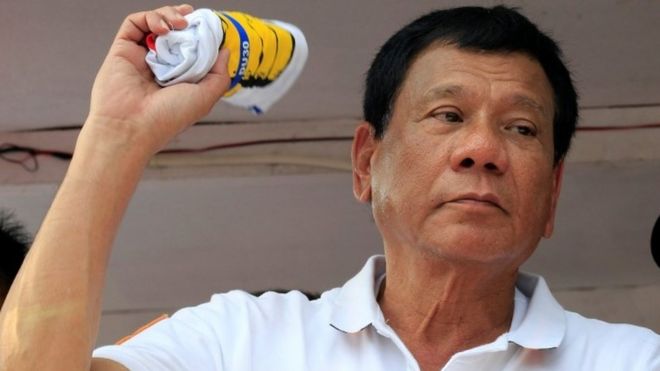 Philippines presidential candidate Rodrigo Duterte (12 April 2016) Reuters
Mr Duterte has a reputation for making inflammatory comme
nts
A video of leading Philippines presidential candidate Rodrigo Duterte joking about a murdered Australian rape victim has provoked a storm of protest.
The footage shows Mr Duterte and his supporters making light of the assault by prison inmates in 1989 when he was town mayor.
He said the female missionary was so beautiful that "the mayor should have been first".
I believe that the woman playing the flute in the photo below is Robin Haines Merrill. The blonde to her left is probably her sister Jacqueline Hamill, who was one of 5 missionaries raped and murdered by the very prisoners they were attempting to help
ON BEHALF OF MY SISTER IN CHRIST, MISSIONARY JACQUELINE HAMILL, I PUBLICALLY DENOUNCE THE PRESIDENTIAL CANDIDACY OF DUERTE, IN THE PHILIPPINES. Jacqueline was raped and had her throat slit while ministering in the jails in southern Philippines in a 1989 hostage taking. Duerte was recorded this week saying in his political rally that while he ordered the killing of the hostage takers while he was mayor, he wished he could have raped her first, since she was so beautiful. Looking back on this photo, I realize ministering in jails as a woman is very risky and looks outright naive, like the "you got what was coming to you" mentality that is prevalent today. But all ministry and everyday LIFE is a big risk, and we must be obedient to the voice of the spirit of God, even if it leads us to death. Jacqueline's death affected me deeply personally, as I had been visiting just about every jail in Manila with the ACTION/CGM teams from 1986-89. I couldn't yet speak the language but I could play the flute and just show love to people in horrible situations. LOVE TRUMPS HATE. DON'T STOP LOVING. DON'T VOTE FOR PEOPLE who speak vile things against WOMEN!! We are ALL made in the Image of God!!
Critics say this shows Mr Duterte is "unfit" for the office of president.
Mr Duterte's supporters however have dismissed the comments as a joke.
The candidate is known for his irreverent speeches and boasts of sexual conquests.
One recent poll had him leading over other contenders ahead of the 9 May election.
'Disgusting endorsement'
The rape comments in a YouTube video are the latest in a string of inflammatory statements - including the proposed mass executions of suspected criminals - made by Mr Duterte.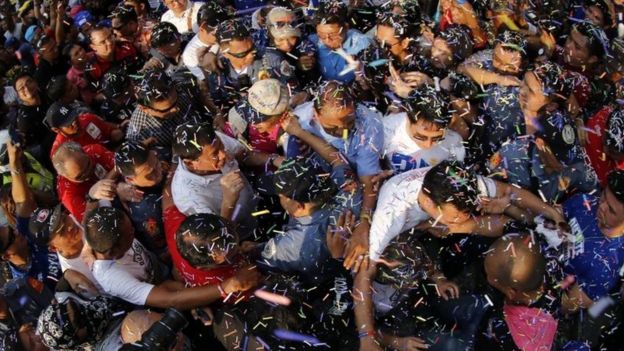 Supporters of Rodrigo Duterte at an election rally east of Manila (12 April 2016) EPA
Mr Duterte has been mobbed by supporters throughout much of the election campaign which culminates next month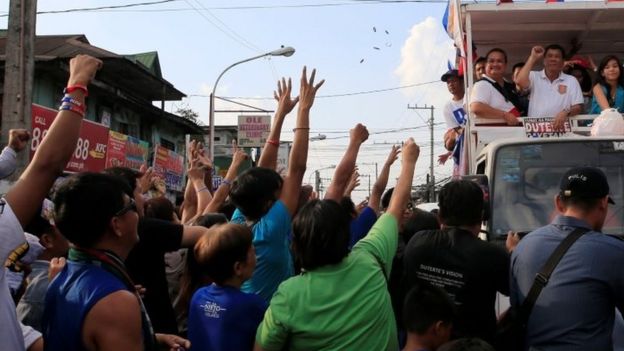 Rodrigo Duterte (top right), Philippines presidential candidate and a local mayor, raises his fist during a motorcade campaign at Cainta Rizal, east of Manila (12 April 2016). Mr Duterte has a popular following ahead of the 9 May poll Reuters
In the video he refers to the missionary who was murdered while ministering in a prison in the city of Davao in the southern Philippines and goes on to make his remark to laughter at a campaign rally.
President Benigno Aquino's spokesman Herminio Coloma said the comments reflected Mr Duterte's
"lack of fitness for the presidency" and his "utter lack of respect for women".
A rival presidential candidate, Vice-President Jejomar Binay, called the comments revolting.
"You are a crazy maniac who doesn't respect women and doesn't deserve to be president,"
Mr Binay told Mr Duterte in a statement.
Human Rights Watch (HRW) Deputy Asia Director Phil Robertson said
the comments "were a disgusting endorsement of sexual violence"
for which Mr Duterte should be utterly condemned.
In 2015, HRW described Mr Duterte as the death squad mayor for his tactics in dealing with violent crime in Davao, with more than 1,000 people being killed.