High School student indicted on
sexual abuse of a child charge
By
KRISTIN HOPPA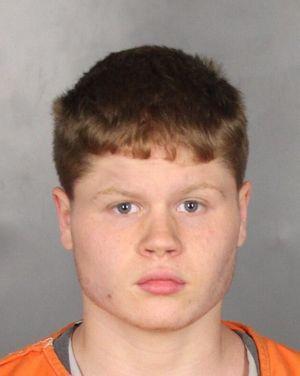 Donnie Howard
A teenage Crawford High School student who was arrested in early May on multiple felony charges of possession of child pornography and sexual assault of a child was indicted Thursday on one count of continuous sexual abuse of a child.
Donnie Wayne Howard, 17, was indicted by a McLennan County grand jury after members found probable cause to believe Howard had a continual sexual relationship with a child who was younger than the age of 14.
According to the indictment, Howard had a period of 30 days or more of sexual contact with the victim between March and the end of April and committed at least two acts of sexual abuse against the child.
Howard was arrested by Crawford police on May 2 on three charges of possession of child pornography, one count of promotion of child pornography and two counts of aggravated sexual assault of a child. Arrest affidavits stated Howard filmed and took photographs of a 6-year-old girl and an 8-year-old boy performing sexual acts with him and shared the images on Kik,
a social media instant messaging app.
Court documents state Crawford police received information from the Texas Department of Family and Protective Services about an incident involving Howard and the young victims. Forensic interviews of both children were conducted and detailed the alleged sexual abuse.
Crawford Police Chief Clay Bruton interviewed Howard at Crawford High School, where Howard waived his Miranda rights and agreed to an interview on April 28, according to the arrest affidavit. Howard said he took the photos and sent them to other people through a social media app, Burton said in the affidavit.
Howard has remained in jail since his May arrest. His bail was initially set at $1.25 million but was reduced to $300,000. With the new indictment, Howard remains in jail with bonds listed at a total of $600,000.
Mom in trouble now too
One week after Howard's arrest, 37-year-old Shauna Hope Gerrish, Howard's mother, was arrested on two charges of tampering with evidence in connection to her son's case. According to Gerrish's arrest affidavit, she knew about illicit content being on her son's phone on two separate occasions, on April 2 and April 17, before she used the factory reset function on the phone in an effort to delete images on her son's phone "to keep Howard from getting into trouble,"
Bruton wrote in the affidavit.
Gerrish posted bond and was released May 10. Authorities said both cases remain active.
Crawford, Texas
Babysitter and Boyfriend Arrested
for Child Sex Abuse, Porn
Babysitter allegedly took children to boyfriend's house,
filmed him molesting them
By Teri Figueroa
CARLSBAD, California — An Escondido babysitter and her boyfriend were jailed this week after police say the woman brought young girls in her care to her boyfriend's Carlsbad home, then filmed as he molested them
.
Brittney Mae Lyon and Samuel Cabrera Jr., both 22,
were arrested Wednesday at their respective homes. Carlsbad police said the pair had been dating for about two years.
Cabrera was jailed in lieu of about $2.5 million on suspicion of conspiracy, continuous sexual abuse of a child, and 23 allegations of child molestation. Lyon was jailed in lieu of $100,000 on suspicion of conspiracy and other charges.
Both are graduates of San Marcos High School, and neither appears to have a criminal record.
In announcing the arrests Thursday, Carlsbad police Chief Neil Gallucci said the department is "equally disturbed and outraged that adults would victimize children in this way."
The two victims, both 7, don't know each other,
authorities said. One is from Escondido and the other is from Oceanside.
One of the victims has special needs, but police declined to specify her disability.
"The families are devastated, as you can imagine," Carlsbad police Lt. Marc Reno said Thursday.
He said he believes that Lyon met both children through her babysitting service, and said investigators are looking into
the possibility that the molestations could reach back two years.
The allegations came to light this week when the child from Oceanside disclosed the alleged abuse to her mother,
who then contacted police in that city. Oceanside police contacted the Carlsbad Police Department on Tuesday.
Carlsbad investigators worked through the night, identifying the couple and obtaining search warrants for their homes, including Cabrera's home on Greenhaven Drive in Carlsbad where investigators believe the molestations took place.
Reno said the searches turned up
"a ton of recorded material,"
including computers, hard drives, video sticks, GoPro cameras and more. "So much of it, it will take a while to sift through it," Reno said.
He said investigators suspect there may be additional victims and asked that anyone with information call the police department's hotline at (760) 931-2293.
"It's important to know that the suspects in this case have been arrested and we believe there are not any additional suspects," Reno said.
Lyon studies child development at California State University Northridge, according to her Facebook page. Cabrera is believed to work for a family business.
Carlsbad, California
Couple faces child sexual abuse charges
By Jacob McGuire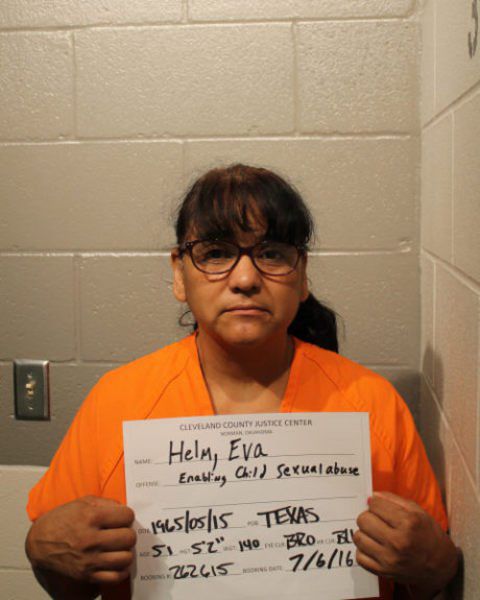 Eva Helm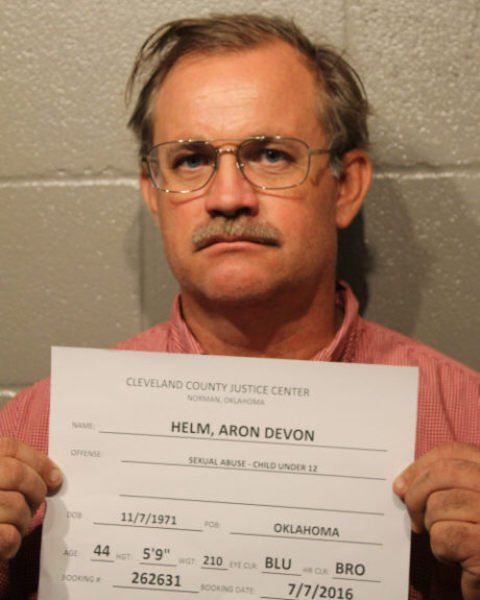 Aron Devon Helm
A Lexington couple was arraigned Thursday for their participation in the sexual abuse of a 10-year-old girl.
Aron Devon Helm, 44, is charged with child sexual abuse and his wife, Eva Castillo Helm, 51, is charged with enabling child sexual abuse.
According to a Cleveland County affidavit,
the girl told Eva about the incidents, but Eva did not address the issue and allowed the abuse to continue. Aron, Eva and the victim lived together at 15551 Banner Road in Lexington.
In a forensic interview, the victim said
the abuse started when she was 6.
The girl said one incident occurred at her school in Noble, when Aron made several inappropriate comments to the victim. The girl said she told Eva about the incidents soon after they began, but Eva ignored the allegations and the abuse continued.
Aron surrendered himself at 10:30 a.m. Thursday, posted bail and was released at 11:21 a.m. Eva is still in the Cleveland County Justice Center and is being held on a $30,000 bond. Aron and Eva are set to appear in Cleveland County court July 19 for a preliminary hearing conference.
Oklahoma court records show Aron and Eva do not have a previous criminal history.
Lexington, Oklahoma
Man charged with continuous sexual abuse of a child
By
KRISTIN HOPPA
A 30-year-old McLennan County man was arrested Thursday, charged with sexually abusing a 13-year-old girl starting in December 2012,
according to an affidavit for the man's arrest.
Michael Sean Morrow
was arrested on
a felony charge of continuous sexual abuse of a child.
McLennan County Sheriff's Office Detective Brad Bond received an arrest affidavit for Morrow on June 20.
The girl, who is now 15, reported abuse by Morrow to investigators during an interview,
according to the affidavit.
She said the abuse happened when she was 13,
the affidavit states.
The girl's mother recalled "catching Morrow in bed with her daughter on at least two occasions beginning in December of 2012 and again in 2013,"
according to the affidavit.
That's insane. The mother needs to be charged as well. Catching your boyfriend in bed with your daughter should never happen more than once.
Morrow remained in McLennan County Jail on Friday in lieu of a $100,000 bond.
McLennan County, Texas