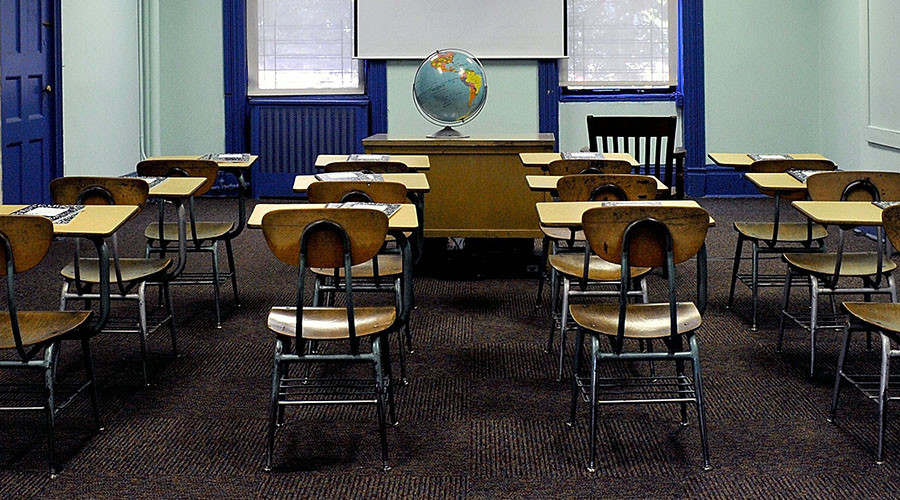 © AFP
An investigation into teachers convicted of sexually abusing students in the US state of Iowa, has found at least seven cases in the last five years where convicted educators escaped prison time despite a state law requiring them to spend a period behind bars.
The Des Moines Register reviewed cases in the state over this period where teachers were convicted of sex crimes involving students to see if their sentences were in line with the law prohibiting probation in exactly these circumstances.
However, remarks by judges and prosecutors involved in the some of the cases appear to suggest that they are ignorant of the law they are required to uphold and enforce.
All of the cases examined during the review involved victims under 18 years old.
Chapter 709, Iowa's sexual abuse law,
prohibits anyone who is a "mandated reporter" of child abuse from being put on probation.
The legislation states that anyone who is
a mandated reporter of sexual abuse cannot - if they are themselves found guilty of sexual abuse of children - avoid prison time.
Further, the law specifies that
their convictions cannot be expunged
once their sentence is served.
A "mandated reporter" is a person, such as a school teacher, daycare worker, hospital worker, or social worker, who is required by law to report any suspicions of child abuse to the authorities.
One of the cases reviewed involved Samantha Kohls, 25, who was sentenced to a one year probationary period in April after pleading guilty to lascivious conduct with a 17 year old student.
The sentencing judge in the Kohls case, Jeffrey Neary, told the Register that he wasn't familiar with the nuances of the law in relation to mandatory reporters and relies largely on the recommendations of prosecutors.
Investigators then spoke with Plymouth County Attorney, Darin Raymond, who advised Neary in this case. He said he didn't believe Kohls should be considered a mandatory reporter because the victim was not her direct student.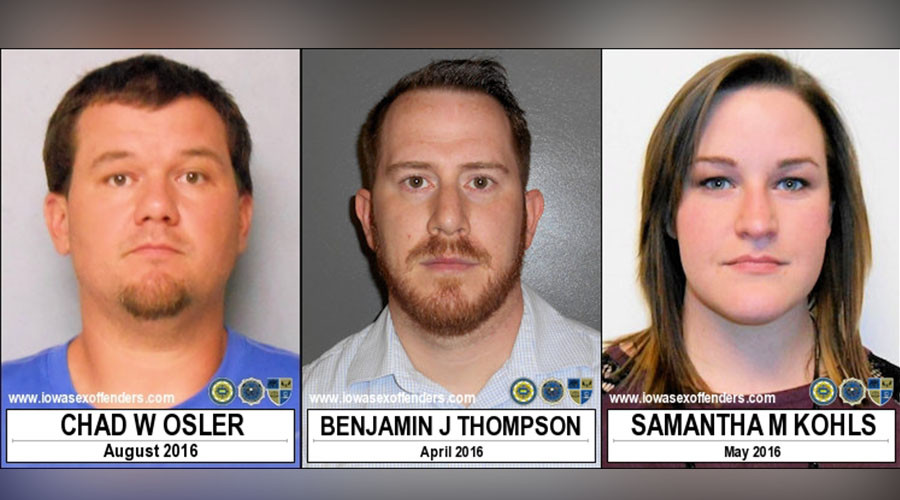 © iowasexoffender.com
However, all licensed school employees, teachers, coaches and teachers' aides are mandated reporters, according to state guidelines.
The Des Moines Register's review also revealed
a number of cases where teachers accused of sexually assaulting students were granted deferred judgments - this is also prohibited by law.
Under deferred judgments, offenders are placed on probation and can petition the courts to have the charges dismissed and the records sealed from the public once the probation period is over.
The mistakes were acknowledged by some judges, prosecutors and defense attorneys who said they were as a result of misunderstandings around the sentencing requirements for such cases, according to the Des Moines Register.
The revelations could lead to the retrial of cases or sentencing agreements,
according to legal experts in the state.
Scott Brown, special assistant Iowa attorney general said under the law there is no way a teacher should avoid prison for sexually abusing a student and suggested
the cases reviewed by the Register are likely the result of errors by prosecutors or judges.
"I think there are some prosecutors who don't know it and that may be why you're seeing some of these sentences," he said.
None of the teachers who benefited from the sentencing errors and ignorance have returned to teaching.
Here are the stories of the 3 teachers who's images are above...
Ex-Cherokee teacher pleads not guilty to having sex with student
CHEROKEE, Iowa | June 22, 2015 - A former teacher in the Cherokee Community School District has pleaded not guilty to having sex with a student.
Chad Osler, 32, of Manchester, Iowa, entered his written plea Thursday in Cherokee County District Court to charges of sexual exploitation by a school employee, lascivious conduct with a minor and third-degree sexual abuse.
According to court documents, Osler, who had been a physical education teacher and coach in Cherokee,
had sex with the student in July 2013. Court documents said the two continued to have contact throughout 2014 and again on Jan. 16.
Osler resigned in Cherokee in 2013 and had been employed as a physical education teacher in the West Delaware Community School District in Manchester. He submitted his resignation there prior to his arrest to take a teaching and coaching job at Lynnville-Sully Community School District in Sully, Iowa. He has since withdrawn from that position and will not be employed there, Lynnville-Sully superintendent Shane Ehresman said.
Manchester, IA
Former Remsen teacher pleads not guilty to having sex with student
Oct 8, 2015
LE MARS, Iowa | A former Remsen-Union Community School teacher has pleaded not guilty to having sex with a teenage student.
Samantha Kohls, 24, who now lives in Cedar Falls, Iowa, entered her written plea Thursday in Plymouth County District Court to two counts of sexual exploitation by a school employee.
According to court documents, Kohls had sex with the boy, a Remsen-Union student who was 17 at the time, at her apartment in July and August 2014.
An investigation was begun in April, and Kohls turned herself in to authorities in August. --
Nick Hytrek
Sexual Assault Charges Filed Against Jailed Former Band Teacher
This is an archived article and the information in the article may be outdated. Please look at the time stamp on the story to see when it was last updated.
JUNE 22, 2015, BY STAFF WRITER, WHO13
FLOYD COUNTY, Iowa — A former band teacher in the Pella Community School District facing sexual exploitation charges has also been charged with sexual assault in another community.
According to the Mason City Globe-Gazette, 31-one-year-old Benjamin Thompson is charged with three counts of third-degree sexual assault in Floyd County. The charges stem from a sexual relationship officials say he had with an underage girl in Charles City in 2011.
Thompson was already facing charges in Marion County for an alleged sexual relationship he had in the summer of 2014 with a now-graduated high school student. He's charged with sexual exploitation by a school employee – pattern and practice/scheme of conduct, and two counts of sexual exploitation by a school employee.
Thompson is being held in the Marion County Jail.
Floyd Co., IA
In an odd, and pathetic coincidence, while researching this story I came across another Benjamin J Thompson who was arrested for child pornography in Washington State. His arrest led to the arrest of a child rapist in Pennsylvania. The story contains an excellent piece of detective work by Redmond Police.
Redmond Child Porn Case Leads to Arrest of Prolific Abuser in Pennsylvania
The investigation of a Redmond man who prosecutors say had thousands of images of child pornography led local police to crack a big case on the East Coast.
By Caitlin Moran (Kirkland Patch Staff) - July 17, 2012 2:12 pm ET
It has to be one of the most difficult tasks in criminal investigations.
Last year, a detective and computer forensics investigator were flipping through thousands of images of child pornography they believed were tied to a Redmond man. The images, allegedly found on computers, thumb drives, disks and phones belonging to 45-year-old Benjamin J. Thompson of Redmond, showed pre-pubescent children—some appearing to be younger than 3—engaged in various sexual acts,
according to charging documents filed last Thursday in King County Superior Court.
As they were looking through the
more than 7,000 of images that allegedly belonged to Thompson,
the detectives came across an
image taken by someone who was sitting in a car and pointing a cell phone camera toward a rear-view mirror, capturing a photo of a partially nude child seated behind him. On the back of the phone, the detectives spotted what appeared to be a sticker with a name and phone numbers on it.
Some pedophiles are really smart, others, not so much.
Using special software equipment to digitally enhance the sticker, the Redmond detectives uncovered the name "B McOwen" and nine digits of the 10-digit number.
The detectives eventually linked the name and phone number to Barry McOwen, a 66-year-old Pennsylvania man who pleaded guilty to various child sex abuse charges last week. McOwen, who was accused of repeatedly drugging and raping three young girls over the course of five years, was sentenced to between 50½ and 100 years in prison.
Great work, you guys; God bless you.
The two local detectives who cracked the case flew to Pennsylvania last week to testify at a criminal hearing for McOwen, according to Redmond Police spokesman Jim Bove.
Bove said it's "definitely rare" for a local investigation to lead to such a huge break in a case so far away. But he added that ongoing technological developments are making it easier for detectives to draw these kinds of connections.
"Once you make one arrest, sometimes the dominos can start falling," He said. "It's disgusting, it's sick, it's gross, but we hope in making these arrests that some additional people will come forward if they know anything about these cases."
In June 2011, Redmond detectives forwarded the image with the name and cell phone number to Pennsylvania authorities—along with 1,500 pages of an online chat log between Thompson and McOwen.
McOwen, who resided near Philadelphia, was standing trial on 651 charges when he plead guilty to several counts last week.
Thompson, meanwhile, was arrested earlier this month and faces four first-degree counts of possession and dissemination of child pornography. His arraignment is set for July 25; if convicted,
Thompson faces 87 to 116 months in prison.
The case was initiated by the National Center for Missing and Exploited Children after Internet
service provider Yahoo reported an attempt to upload "numerous" images of child pornography
at an IP address associated with Thompson's Redmond apartment, according to charging documents.
Redmond Police were issued a search apartment for Thompson's residence in March 2011. They seized computers, thumb drives, CDs, memory cards and cell phones containing more than 7,000 photos and videos of children engaged in sexual acts.
Case timeline
January 2011: Thompson allegedly attempts to upload 143 images to a Yahoo! Groups account under the user name "pantyboy3966."
March 2011: Redmond Police execute a search warrant on Thompson's Redmond apartment, finding more than 7,000 images of child pornography, according to charging documents.
June 2011: Redmond Police discover the cell phone photo with McGowen's name and an associated phone number.
June 13, 2011: McGowen is arrested and his Montgomery County home searched.
July 6, 2012: Redmond resident Benjamin J. Thompson is arrested on suspicion of possession of child pornography.
July 10, 2012: Facing 651 charges of child rape and related crimes, McGowen unexpectedly pleads guilty to some of the charges and is immediately sentenced to between 50½ and 100 years in prison.